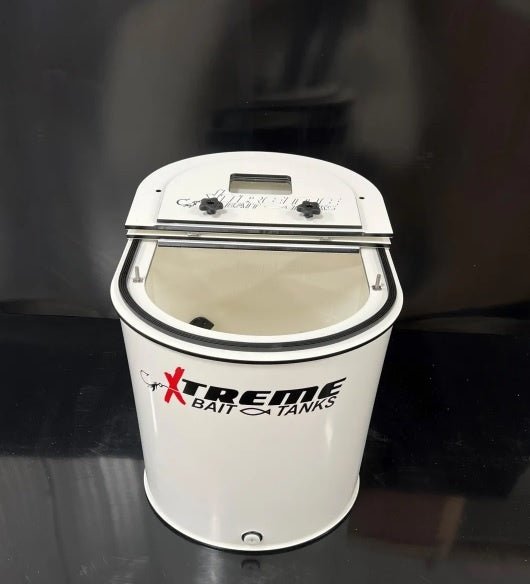 Xtreme Bait Tank - 35 Gallon
Pickup available at Shop location
Usually ready in 1 hour
Xtreme Bait Tank - 35 Gallon
Shop location
Pickup available, usually ready in 1 hour
2619 Bobmeyer Road
Fairfield OH 45014
United States
+15138692248
ONLY AVAILABLE FOR IN STORE PICK UP!
The 35-Gallon X-Treme Bait Tank features a true 35-gallon bait compartment and 10-gallon filter compartment for 45 gallons total. The tank features two 800-GPH Tsunami pumps, each connected to Dannco Venturis, along with dual stand pipes and a 200-micron triple-bag sock filtration system for maximum water filtration. Features also include high-quality stainless steel hinges, reinforced tank lid and rocker toggle switches. 
STANDARD EQUIPMENT
Two 12 volt pumps
Three 200-micron aquatic filter socks
Two Dannco Venturis
OPTIONAL ADD-ONS
BLACK INSIDE WALLS
The black inside wall will completely block out 100% of all light from getting into your tank when the lid is shut.  This feature has proven to significantly assist in a healthier bait.  It is our strong opinion that complete darkness significantly calms the bait and as a result, they are less stressed and much friskier when you are ready to put one on the hook.  Note, any tank ordered with a black inside wall will automatically get a lid with NO WINDOW.  We use a white bottom so you can see the bait when you open the lid.  A black bottom makes it almost impossible to see what's inside, even when the 12v light is on.  Day light can not penetrate the white/black/white lid or base.   
PUMPS
A 110 volt pump can be added to any tank allowing the user to plug the tank into an electrical outlet when off the water, making longer term bait storage a breeze.   Additionally, tanks can be built with 110 volt pumps in lieu of 12 volt pumps, ideal for bait and tackle shops or those that prefer to keep bait at home and dip out what they need for the day.   IT IS IMPORTANT TO NOTE, even though these 110 pumps are magnetic drive pumps, they can cause the water to get warm.  Depending on your bait and the time of the year that these pumps are being used, it's normally not an issue.  If it becomes an issue, you will need to consider use a 110 chiller to guarantee a fixed temperature inside your bait tank (which really isn't a bad idea anyway). Normally, adding 1-110 pump into a tank is a non issue.  However, if you are using multiple 110 pumps, again, a chiller is recommended.  All 110's must be plugged into an approved GFI outlet.
FILTER MANIFOLD 
Add a spare filter manifold, complete with filter socks, to your order for an easy swap when it's time to clean the filters.  Simply pull out the manifold in use and insert the spare manifold with clean filter socks. 
BULKHEAD DRAINS*
A bulkhead lower drain allows all but approximately 1-2" of water to be drained from the tank. A bulkhead overflow drain, located just above the tank fill line, allows excess tank water to drain off.
*Please note that the addition of a bulkhead drain presents an opportunity for a small amount of water to enter between the interior and exterior tank walls. X-Treme Bait Tanks are designed for this water to drain off through weep holes.
SKIMMER
Located at the tank fill-line, the skimmer assembly draws water from the top of the tank and sends it through a filter sock before recirculating it to the bait storage side. With a skimmer in place, tank water is filtered from the top down as well as from the bottom up via the tank's standard filtration system.
HORIZONTAL LID HINGING
The lid is split and hinged across the length of the tank and opens from the side versus standard hinging that opens from the front.
CARBON FILTER
One-pound activated charcoal pellets in a reusable mesh bag help further clean tank water.
Measurements:
26" Tall from exterior bottom of the tank to the top of the lid knobs
24" Wide
32" Long
Dry Weight:60 lbs